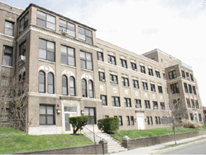 Project Overview
The Deaprtment of General Services is no longer managing the redevelopment of 1125 Spring Road. The project is being managed by the District's Office of the Deputy Mayor for Planning & Economic Development (DMPED).
DGS has been advised to direct community inquiries to Councilmember Brandon Todd's office. Please contact his Chief of Staff Ms. Sherryl Newman at [email protected] for more information."
Project Details
1125 Spring Road Re-Use Project
Location: 1125 Spring Road, NW
Ward: 4
ANC: 4C
Type: Re-Use
DGS Contact: N/A
Note: More information will be posted as it becomes available.
Featured Presentation
DCHA 1125 Spring Road Re-Use Project Presentation September 9, 2014
Related Information