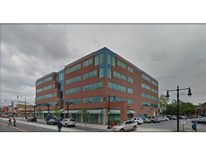 Project Overview
DGS, working in partnership with Jair Lynch Development Partners, is renovating the 1st-5th floors of 645 H Street NE for the Department of Human Services' Economic Security Administration's H Street Service Center and Administrative offices. The scope of work includes complete demolition of the existing interior space, and design and construction of a portion of the 1st and all of the 2nd-5th floors utilizing many construction trades.
The space is being designed utilizing the District's Design Guidelines that will allow for more efficient use of interior tenant spaces while creating a 2nd floor Service Center that will allow for clear and easy access for DHS clients to utilize services provided by DHS staff.
The first phase of construction involves the relocation of the staff from 645 H Street, NE to 609 H Street, NE in October 2013. DHS will remain in 609 H Street until Phase 2 is complete, which has an approximate delivery date of December 2014.
Project Details
645 H Street, NE Re-development Project
Agency: Department of General Services (DGS)
DGS Contact: Daniel Bohnlein
Ward: 6
Status: In Progress
Type: Re-Development
Start Date: August 2013
End Date: December 2014
Budget: $7,000,000
Green Features: LEED Certification/LEED Commercial Interiors
Project Team:
Daniel Bohnlein (DGS Capital Construction Services Division)

Charleen Ward (DGS Portfolio Division)

James Fennelly (Jair Lynch Development Partners)