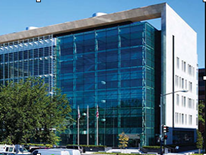 Project Overview
The Consolidated Forensic Laboratory (CFL) is a cutting-edge, award winning science facility designed to provide the District of Columbia with critical public safety and health science infrastructure. Co-locating the Department of Forensic Sciences (DFS) and the Office of the Chief Medical Examiner (OCME), the CFL provides advanced laboratory and work facilities designed for the safety of the analysts and the public.
The CFL is rated Leadership in Energy and Environmental Design (LEED) Platinum, the highest designation. Close to public transit and shared fleet vehicles, the CFL also has these energy-efficient features:
A 30,000 square foot green roof with vegetation and a hard runoff reclamation cistern could reclaim up to 2 million gallons of rainwater per year,
Facility safety features that protect the building while reducing water runoff,
A tight and energy-efficient "skin" that uses coated glass to reduce heat load on the building, and
Chilled beam and heat recovery methods (enthalphy wheels) to maintain temperatures.
Project Details
Consolidated Forensic Laboratory Project
Location: 4th and School Streets, SW
Project Manager: Allam Al-Alami
COnstruction Agency: Department of General Services
Status: Completed
Type: New Construction
Actual Budget: $215,000,000.00
Green Features: LEED Platinum Certified
Construction: Fall 2009 - Spring 2012
Status: Completed
Partners:
Metropolitan Police Department (MPD)

Office of the Chief Medical Examiner (OCMO)

Department of Health (DOH)