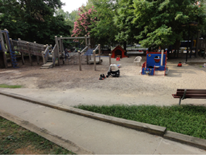 Project Overview
Modernization of existing park with new landscape features such as bioretention areas, site amenities including picnic areas, community circle and fitness equipment and a half basketball court. The new park will create a multi-generational play that best accommodates community needs and exemplifies the unique characteristics of the neighborhood.
Pardon Our Dust!
Please note that during construction:
the playground, tennis courts and picnic areas will be unavailable.
the main walkway through the site will also be unavailable.
the baseball field will remain open.
the main construction entrance will be off of Chesapeake Street, NW.
Project Details
Forest Hills Park Play DC Playground Project
Location: Between 32nd Street and Chesapeake Street, NW
Ward: 3
Construction Agency: DGS
DGS Project Manager: Carolina Trujillo
DPR Project Manager: Stacie West
General Contractor: Kadcon Corporation
Architect: Bradley Site Design, Inc.
Status: Complete- Ribbon cutting held October 26, 2014
Start Date: June 9, 2014
End Date: September 30, 2014
Note: More information will be posted as it becomes available.
Feautured Presentation
Forest Hills Play DC Playground Site Plan Updated June 13, 2014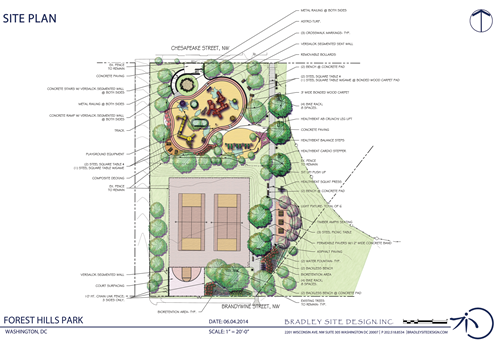 Images of Complete Playground

Related Information