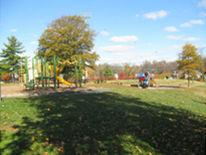 Project Overview
Renovation of the play space at Fort Davis Playground. Playground equipment for 2-5 year olds and 6-12 year olds, soft surfaces and repaired walkways, splash pad incorporating sustainability design for play field irrigation and/or bio retention ponds, benches and picnicking area furnishings, ADA features and accessibility, and lighting and safety improvements.
Project Details
Fort Davis Play DC Playground
Location: 1400 41st Street, SE
Ward: 7
Construction Agency: DGS
Start Date: October 2014
End Date: October 2015
General Contractor: TBD
Architect: TBD
Budget: $4,000,000
Green Features/LEED Certification: Green materials, permeable surfaces, native plantings, and water reclamation.
Status: Complete