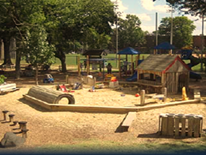 Project Overview
Modernization of existing park with new landscape features, rain gardens, site amenities, including ADA improvements and water play area. The new playground takes advantage of the site's topographic features by adding new slides and net climbers on existing hills. The park will also feature a constellation theme which will promote educational aspects of the park.
Project Details
Guy Mason Play DC Playground Project
Location: 3600 Calvert Street, NW
Ward: 3
Construction Agency: DGS
Budget: $1.7 M
Start Date: August 2014
End Date: December 2014
Status: Completed December 22, 2014
General Contractor: KADCON Corporation
Architect: Bradley Site Designs
Green Features/LEED Certification: N/A
Note: More information will be posted as it becomes available.
Images of Playground Construction