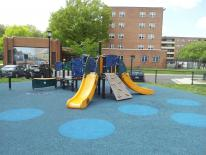 Project Overview
the project consists of the renovation of the play space at King Greenleaf.
Included will be:
Playground equipment for 2-5 year olds
Playground equipment for 6-12 year olds
Entirely new splash pad feature
Soft surfaces and permeable surfaces for walkways
Shade structure, benches and miscellaneous furnishings
ADA features and accessibility, landscaping and lighting.
Project Details
King Greenleaf Play DC Playground Project
Location: 201 N Street, SW
Ward: 6
Construction Agency: DGS
Start Date:
July 2014
End Date:
December 2014
DGS Project Manager:
John Harmon
General Contractor:
HRGM
Architect:
Studio39 (DD) - LandDesign (Final)
Budget: $1,600,000
Green Features/LEED Certification: Green materials, permeable surfaces, native plantings, and automated splash pad.