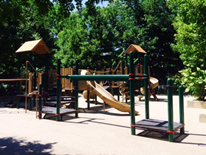 Project Overview
As part of the Play DC comprehensive Parks and Recreation 10-15 year Master Plan for the District of Columbia, the current play space at Mitchell Park will be renovated to enhance the park's resources to help Washingtonians "Move, Grow, and Be Green!" To ensure that the newly renovated play space meets the needs of, and reflects the individuality and uniqueness of the community, DGS strongly urges District residents to participate in the community meetings. In addition to Playground improvements, work will be done on the Historic Field House, this work will include installation of new windows as well as new columns to match historic columns, painting the facade as well as interior, installation of new flooring and HVAC.
Project Details
Mitchell Park Play DC Playground Project
Location: 1801 23rd Street, NW
Ward: 2
Construction Agency: DGS
Start Date: June 2014
End Date: August 2014
General Contractor: Blue Skye Construction
Budget: $1,000,000
Status: Completed
Construction Completed!
Images of the completed Play Space as of August 26, 2014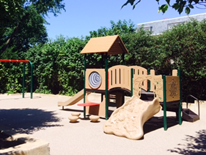 Related Information