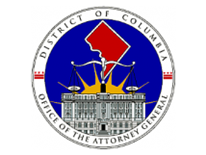 Project Overview
This project involves the interior renovation of space for OAG on the 5th , 6th, 10th and 11th floors of One Judiciary Square as well as the consolidation of staff from various floors.
The renovation of the 11th floor was completed in the Spring of 2009. Construction of the 10th floor (Phase I) was completed in the Winter of 2010. Phase II work will be carried out once OAH vacates the space at the end of July 2011.
Construction of the 6th floor of OAG will begin in December 2011 and will continue through November 2012. This part of the project is currently delayed due to the unavailability of swing space.
Project Details
Office of the Attorney General Build-Out Project
Location: One Judiciary Square - 441 4th Street, NW
Project Manager: Hares Sayed
Providing Agency: Department of General Services
Status: Completed
Type: Renovation/Modernization
Actual Budget: $2,300,000.00
Partners:
Agency: Office of the Attorney General

General Contractor: TBD

A/E: Devrouax & Purnell