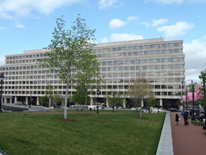 Project Overview
The Department of General Services (DGS) completed a $7.5 million (Federal Stimulus Dollars) Energy Retrofit Project to reduce the energy consumption of one of the District's busiest office buildings; One Judiciary Square, located at 441 4th Street, NW. The building has 875,000 gross square feet area and accommodates 20 District government agencies.
Under the OJS Energy Retrofit project the building received a new building management system, digital controls and upgrades to the heating, ventilation and air conditioning system. The project created the equivalent of 16 full-time construction jobs.
This project was awarded to Pepco Energy Services in August 2010 and was completed by Winter 2012. The District was targeting 20 percent saving in Energy cost at OJS by the time the project was completed. The retrofit project was mainly funded by American Reinvestment and Recovery Act (ARRA) through the DC Department of Environment.
Project Details
Energy Retrofit Project at One Judiciary Square
Location: 441 4th St, NW
Providing Agency: Department of General Services
Type: Renovation/Modernization
Energy Retrofit Execution: Summer 2010 - Winter 2012
Status: Completed
Actual Budget: $7,500,000.00
Project Manager: Hassan Nejad
Partners:
Pepco Energy Services

Kramer Consulting

DC Department of the Environment (DDOE)

US Department of Energy (DOE)