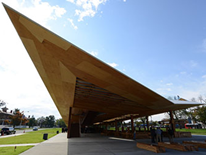 Project Overview
The Gateway Pavilion is an innovative, flexible, and unique structure designed to serve a wide range of interim uses and allow neighborhood residents and others to experience St Elizabeths East. It was envisioned as a destination for casual dining, as well as a venue for hosting activities such as a farmers' market and other weekend and afterhours, community, cultural and arts events. It has begun to achieve the vision of the Master Plan as hase II is about to get underway.
The District also developed programming that provides economic opportunity to local residents. The Gateway Pavilion hosts a number of small vendors/food stalls, food trucks and other mobile vendors, shared seating for patrons, and support facilities including storage and restroom spaces.

The Gateway Pavilion was envisioned as a destination for those who live in the community, for all District residents and visitors, and for the approximately 4,400 Coast Guard employees, who will arrive on the West Campus in May of 2014.
Project Details
St Elizabeth East Gateway Pavilion Project
Address: 1100 Alabama Avenue, SW
Start Date: October 2012
Completion Date: May 2013
Status: Completed
Project Budget: $4.5 million
Project Manager: Michelle J. Chin
Contractual Project Team: General Contractor: Kadcon Corporation / Davis Brody Bond