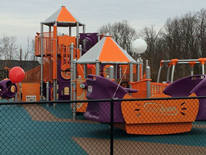 We are happy to announce the completion our newest Play DC construction project, the renovation of the Douglass Playground, which is located at 2100 Stanton Terrace, NE (Ward 8).
The old play space had two separated play areas, basketball courts, a baseball field, and a performance platform all in need of repair.
What's New?
The concept for Douglass' play space was designed and built on a theme of memorial groves representative of three phases and places of Frederick Douglass' life: New York, Massachusetts, and Washington, DC. In addition to the new trees at the site, there are new pavilions and a community garden. A new entrance plaza invited residents and visitors into a new gathering space by the recreation building and a consolidated play area for both younger and older children. Additionally, a new walking trail and fitness stations provide new opportunities for all. The basketball courts were also renovated and new site lighting was installed.
How You'll Move Grow and Be Green
You can MOVE around the "forest" of tree climbers, which fit in with the memorial groves; designed to help us GROW in our appreciation of the life of Frederick Douglass. Plant your own vegetables in the new community garden, too. It is designed to teach us all to BE GREEN.
Related Information