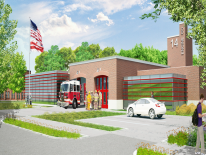 Project Overview
DGS on behalf of FEMS is overseeing the modernization and expansion to existing Engine Company 14, which has not been significantly upgraded since its construction in 1944. The modernization of Engine Company 14 provides an opportunity to create a new and more prominent image for a public neighborhood facility. Its modern design will set a new benchmark for future Engine House renovations.
Like all fire stations Engine Company 14 is a 24hr facility with services to the community that cannot be interrupted. To ensure continued service to the community during this major renovation project a temporary fire station will be constructed within the response area. A pre engineered metal building will house the fire trucks and abulance. Four trailers will be placed on site adjacent to the metal building to serve as living quarters for the fire fighters.
The work at the main facility includes selective demolition of building components and building systems. The existing footprint of 8,253 SF will be expanded by another 4,369 SF of new program for a total SF of 12,622. The expanded square footage will allow for separate men's and women's facilities, expanded kitchen and dining hall, new exercise room, and offices. The facility will be a modern design while still maintaining the historic nature of the large apparatus bay, including iconic fire engine red vehicle doors. Construction materials will consist of brick, stucco, steel, and glazed curtain wall. Site work will include new grading and parking area, upgraded utilities and landscaping.
During construction the staff and operations of Engine Company 14 will be housed temporarily at 401 Farragut Street NE.
Project Details
Location: 4801 North Capitol Street, NE; Washington, DC 20011
Construction Agency: Department of General Services (DGS)
DGS Project Manager: Agyei Hargrove
Ward: 5
Status: Demo/Construction
Type: New Construction
Start Date: May 2014
End Date: April 2017
Budget: $6,300,000
Green Features: LEED Gold
Project Team:
General Contractor: District Veteran's Contracting LLC (DVC)
Architect: Sorg Architects
Longobardi & Associates
DGS Contact - Jackie Stanley
Other Related: