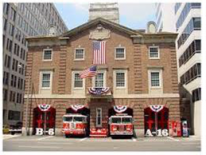 Project Overview
DGS on behalf of FEMS is overseeing the modernization and renovation of existing Engine House 16. This historic Engine House was built in 1932 with a total usable floor area of 26,460 sq. ft. on 3 stories and a partial basement. Engine Company 16 is an emergency fire and medical response facility and is located on the 1st and 2nd floors of the building. The entire 3rd floor is occupied by FEMS support staff. FEMS fire fighters, EMS personnel, and their respective support teams are housed in the facility, while on duty, twenty-four hours a day, seven days a week (24/7). The building also contains their response vehicles and equipment in a continuously ready state.
The project is a complete renovation performed in four phases, with the second and third phases containing the majority of the construction work. The first phase is a prep phase, required to provide accommodations to the reduced staff that will be occupying the facility during renovation. The fourth phase is a coordination phase where the major work performed in phases two and three are connected.
During construction the staff and operations of Engine Company 16 will be housed temporarily at Engine Company 2 (500 F street, NW) and Engine Company 6 (1300 New Jersey Avenue, NW) and will return to Engine Company 16 immediately following completion of construction. Engine Company 16 construction completion is scheduled for end of January 2017.
Department of General Services anticipates total completion of this project to take four hundred and seventy (470) calendar days, completion scheduled for January 2017.
Project Details
Location: 1018 13th Street NW; Washington, DC 20005
Construction Agency: Department of General Services (DGS)
DGS Project Manager: Quinn Osborne
Ward: 2
Status: Construction
Type: Renovation and Modernization
Start Date: October 2015
End Date: January 2017
Budget: 8-12 Million
Green Features: LEED Silver
Project Team:
General Contractor: MCN Build
Architect: Lemay Erickson Willcox
DGS Contact - Jackie Stanley
Interior progress photos as of March 22, 2016