Thursday, December 12, 2013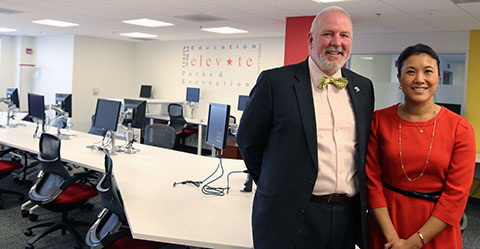 FOR IMMEDIATE RELEASE: Thursday, December 12, 2012
CONTACT: Kenneth Diggs (DGS) 202.580.9361; [email protected]
(Washington, DC) – On December 4th, the Department of General Services Director Brian Hanlon joined DGS staffers Deputy Director of Capitol Construction June Locker, Sustainability Manager Mark Chambers, project managers Robert Cooper and Gbolahan Williams at the DGS 1250 Office Building (1250 U Street NW, Washington, DC) for the official ribbon cutting celebration of the Agency's newest pilot program, the Agile Work Environment (AWE). The Agile Work Environment pilot is the District Government's first office management strategy that combines work space hoteling and hot-desking/free addressing as a solution for employee work space and resource allocation.
"The Agile Work Environment pilot is a step in the right direction," said DGS Director Brian Hanlon. "Start ups and creatives in the private sector have been employing this methodology successfully for quite some time, because collaborative work spaces encourage teamwork and increased productivity. We foresee the Agile Work Environment pilot not just in DGS work spaces, but leading the way for DC Government and other local governments across the nation."
Hoteling considers certain office resources, such as workspaces and equipment, to be shared assets rather than assets 'owned' by specific individuals within an organization. By sharing assets between employees, an organization can optimize the efficiency of their offices, reduce their real estate costs by employing more people in the same space and increase employee satisfaction and retention by giving them access to workspaces and resources whenever and wherever they need them. Hoteling work spaces require reservation and check-in processes, and includes VOIP telephone switching functionality.
"Hot-desking" or "free addressing" are also available in the AWE and are considered to be like a parking lot – workspace available on a first come, first serve basis. With hot-desking or free addressing, there is no advance reservation needed and no check-in required.
"The Agile Work Environment (AWE) is a 1,300 sf flexible open plan workspace with mobile elements suited for various reconfiguration options," described Deputy Director June Locker. "Redesigned from a workspace that provided 6'x8' workstations for twelve (12) people, this AWE is designed to provide space for working, collaboration, presentation, lounge, and storage that accommodates thirty-seven (37) people, which improves the efficiency and quality of the space," she added.
"Agile Work Environments not only encourage efficient and creative problem solving, they discourage sedentary work habits that can negatively impact health, wellness and productivity," said DGS Sustainability Manager Mark Chambers. "Creating this space is a clear signal from DGS Capital Construction Division that their process is as dynamic, adaptable and beautiful as the buildings and public spaces they create."
Staff, whom have been assigned to an AWE space, will be designated a locker for personal storage, a filing cabinet to store project information, and a flat file drawer to store project drawings. Six (6) hoteling spaces in the quiet zone along the west wall have been reserved for AWE assigned staff. All other spaces will be available for hot-desking /free addressing. Attached is a diagram which designates the quiet zone, collaboration zone, hoteling space and hot-desking/free addressing seats.
The Agile Work Environment (AWE) amenities include:
WiFi
46" Television
New Computer Monitors
Lounge Seats with Tablet Arms
Interstuhl / Fit Chair (Red Net Chairs)
Glass Marker Board
New Flip-Top Ganging Tables
High-Back Lounge Seats
Standing Height Countertop with Bar Stools / Flat-Files Drawers (for drawings) / Lockers / Lateral File Drawers
Electronic and Manual Telescoping Work Surfaces
ABOUT THE DC DEPARTMENT OF GENERAL SERVICES
The Department of General Services was created by the Mayor in October of 2011 through a merger of the former Department of Real Estate Services (DRES), the Office of Public Education Facility Modernization (OPEFM) and various divisions of other select agencies, such as the Department of Parks and Recreation (DPR). Charged with constructing, maintaining and managing the District's real-estate portfolio of over 30 million square feet – including schools, parks, office buildings and other municipal facilities – DGS is dedicated to good stewardship of the spaces where residents and visitors work, live and play.

# # #
Follow DGS on Facebook, Twitter, and Visit Our Website!
Follow DGS on Twitter at @DCDGS - Facebook at facebook.com/dcdgs - Visit DGS at dgs.dc.gov