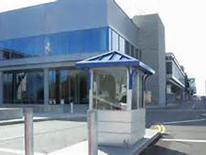 Across the District, building security is a large piece of keeping our people safe. DGS's Protective Services Division, in combination with the Metropolitan Police Department and security contractors, works diligently to protect our city's investments, residents and visitors.
Contact Information
For emergencies, please dial 911. All non-emergency calls can be directed to the Mayor's Citywide Call Center at 311.
District employees can also visit PSD offices at:
PSD Headquarters
64 New York Avenue, NE
Washington, DC, 20002
Central Communications Center
1350 Pennsylvania Avenue, NW, John A. Wilson Building, Level C1
Washington, DC, 20004
Security for Special Events
You can contact PSD to request additional security for a special event.
Examples of an appropriate time to contact PSD for additional security may include:
VIP/Special Visitors who require enhanced security
Large scale training events
Meetings or events expecting a large number of attendees
Any event outside of normal business hours
Reductions in Force (RIF)
Protests
Rallies
If in doubt, please email PSD and allow our professionals to assess the event for any additional security needs.