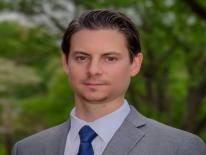 Matt Floca is an experienced facilities management professional with a construction management background and an appreciation for whole building design principles. Over the past decade, his devotion to improving the District of Columbia's built environment has developed into a comprehensive understanding of creating, managing, and maintaining cost-effective facilities that operate at peak performance levels.
As the Associate Director of Sustainability and Energy for the Department of General Services, Matt leads a dedicated team of specialists focused on developing and implementing advanced building portfolio systems and operating techniques. This work empowers the engineers and operators who care for critical building systems, enhances the experience of building occupants and visitors, conserves natural resources, reduces energy consumption, and lowers greenhouse gas emissions. Collectively these efforts save the District money through higher productivity, increased innovation, and reduced waste.
He holds a Bachelor of Science degree in Construction Management from Louisiana State University and currently resides in the Lamond Riggs neighborhood in Ward 4.
Contact Email: [email protected]