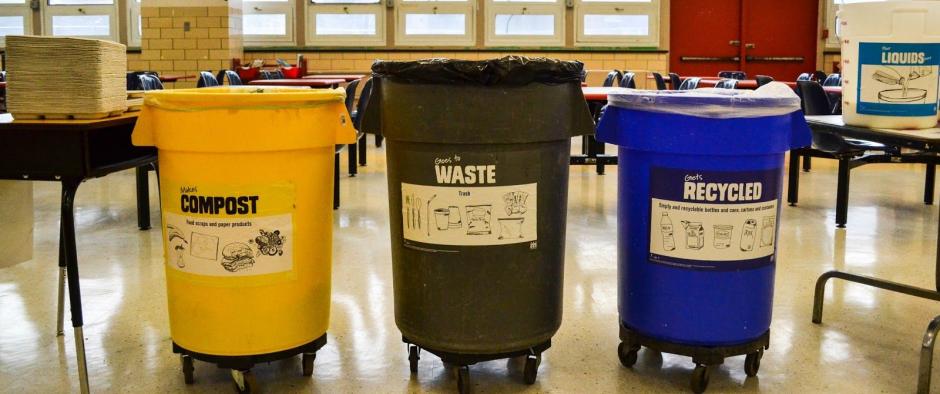 DGS is responsible for the sustainable collection and disposal of waste generated by DC government facilities. We collect and dispose of trash and recyclables, which are processed at regional waste management facilities. In partnership with our sister agencies, we all share a responsibility to manage waste properly. To learn more about Waste management for DGS managed facilities: Understanding Waste Management for DGS Managed Facilities 2023 Flyer.
DGS-SE is responsible for providing sustainable management of waste generated at DGS properties, in accordance with the District's goal of achieving zero waste by 2032. To do this, DGS-SE procures waste management hauling services for all District agencies under the purview of the Executive Office of the Mayor, as well as for some independent agencies like DC Public Library.
These procurements enable agencies, such as D.C. Public Schools (DCPS), D.C. Parks and Recreation (DPR), and the Metropolitan Police Department (MPD) to collect and dispose of recyclable materials separate from the municipal solid waste stream. These recyclables are then processed at regional recycling facilities.
DGS' recycling program aims to support the achievement of the waste targets laid out in the Mayor's Sustainable DC Plan, including:
Reduce total waste generation by 15% from 2012 levels;
Reuse 20% of all waste produced in the District; and
Increase waste diversion rate to at least 80%.
For additional information on waste hauling services for District government facilities managed by DGS, please refer to links below:
Click here to learn more about recycling and waste diversion in D.C. Public Schools.
Related Webpages: