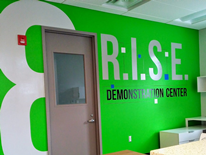 Last Date:
Details:
Renovated Chapel at St. Elizabeths East to Serve as a Flex Meeting and Tech Space in Ward 8
Mayor Vincent C. Gray, Interim Deputy Mayor for Planning and Economic Development M. Jeffrey Miller, Department of General Services Director Brian Hanlon, and DC Office of Planning Director Ellen McCarthy joined with community members today to cut the ribbon on the R.I.S.E. Demonstration Center, formerly the chapel on the St. Elizabeths East Campus in Ward 8. The R.I.S.E. Demonstration Center, a name selected by the community, stands for Relate, Innovate, Stimulate and Elevate (Rela8, Innov8, Stimul8 and Elev8). The center will serve as a flexible meeting, tech and demonstration space. It is designed to build interest in the redevelopment of the St. Elizabeths East Campus as an innovation hub by drawing in the surrounding community and creating bonds with Ward 8 residents.
"Creating this amazing space helps answer the call of Ward 8 residents for innovative pilot projects that address the need for job growth and economic development in their community," said Mayor Gray. "I am pleased to cut the ribbon on the R.I.S.E. Demonstration Center, a critical investment in Ward 8 that will serve as a resource for building technical skills and connecting residents to entrepreneurial opportunities."
Funding for the demonstration center was provided in part through the District's "forWard8: Investing in Our Future initiative," which awarded $2.5 million to support a package of District-led career training and business development projects for Ward 8. Total cost to renovate the demonstration center was $8.3 million. The center was constructed by the design-build team of Cunningham Quill Architects (architect) and GCS, Inc. (general contractor).
"We are excited to celebrate the completion of the R.I.S.E. Demonstration Center, as it will serve as another tool in our efforts to transform the St. Elizabeths East Campus into an inviting and innovative community," said Interim Deputy Mayor Miller. "We welcome the surrounding community to return to the campus and believe the center, along with Gateway DC, will bring tremendous opportunity for excitement and growth on the campus."
The Demonstration Center will feature:
Two large demonstration and lecture halls for conferences, technology displays and innovative exhibits;
A Digital Inclusion Center with a state-of-the-art computer lab offering computer training for residents, seniors, small businesses, and others;
And a flexibly designed demonstration, entrepreneurship, and career conference area intended to host a range of programs.
Much like the interim-focused St. Elizabeths Gateway Pavilion (Gateway DC), the Demonstration Center is expected to operate for approximately 10 years as the permanent Innovation Hub area is developed. The Demonstration Center will lay the foundations for the lasting hub and accelerate job creation and business-development linkages. Key partners with the Demonstration Center are the University of the District of Columbia - Community College and the District's Office of the Chief Technology Officer.