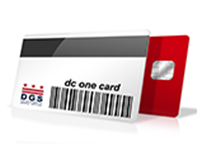 The District's Employee ID Badges program has been transferred to the Department of Human Resources (DCHR). For details, please refer to DCHR-Employee ID Badge.
Note: The public can visit most District government offices by showing a valid form of identification. Visitors must also pass through a standard security checkpoint when first entering a District building.
District employees can bypass some building security with a valid employee ID badge. ID Badges may also be required in secure areas of the facility, such as in employee work spaces.
Location
The main credentialing facility is located at 441 4th Street NW, South Lobby.
Hours of Operation
The facility is open 9 am-1 pm and from 2 pm-5 pm, Monday through Friday.
The facility is closed daily from 1 pm-2 pm.
On the first Monday of every pay period, the office will be closed until 2 pm. Please call (202) 442-9700 before traveling to our office on these days to ensure the facility is open.
How to Request a New or Replacement ID Badge
You will need to bring the appropriate forms, completed and signed, to the main credentialing facility. You will be required to show one form of acceptable government-issued photo identification.
If you work in a building controlled by Protective Services Police Department (PSPD), your new ID will serve as your electronic access card. Your access rights will be processed separately by PSPD. You will be notified by email when your new card becomes active.