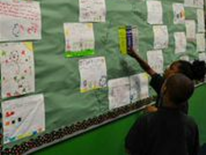 DGS is proud to share this DCPS Recycles! Honor Roll Success Story from Stanton Elementary School!
As part of a Black History Month service project, the third graders at Stanton Elementary learned about why it is important to recycle, how it benefits others, and how they can participate. For their project, working with teacher Emma Reilly, they created signs to inform their school on what they had learned about litter prevention and the 3 R's - Reduce, Reuse, and Recycle. However, after learning the benefits of recycling the students wanted to do more by recycling in their own school. The students wrote a letter to Stanton Business Manager, Crystal Balogun, requesting the necessary supplies, and with help from DGS Stanton was able to acquire the supplies necessary to enable each classroom and office to recycle. Each classroom received a brand new recycling bin after teams of third graders presented to each class about recycling and the acceptable materials. Now, with the assistance of Stanton's CityYear members, students maintain this program by collecting recyclables out of classrooms for disposal outside every week.
If you have any questions or media inquiries, please contact:
Kenny Diggs, DGS Director of Government Affairs and Communications
Phone: (202) 580-9361
What would you like to read about on the DGS Blog? Let us know.