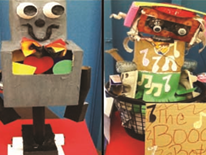 By Brooke Hartman, Schools Outreach Specialist
DGS is proud to share this DCPS Recycles! Honor Roll Success Story from Mamie D. Lee School!
At Mamie D. Lee School, various staff members teamed up to engage their entire school in a Recycled Robots activity to build upon their school recycling program. This great hands-on learning activity for the students demonstrates a fun way to encourage school-wide participation in resource conservation activities at school.
At Mamie D. Lee School Teacher Helena Newman manages the school's successful recycling program by having her students empty each classroom's recycling bins every week. Contributing to their efforts, the school's Enrichment Team - Michele Shorter, Michael Williams, and William Ford - created the Recycled Robots activity to engage students and teachers in recycling at school and at home. School staff was asked to collect recyclable items in special classroom bins designated for robot construction material, and together staff and students built their Recycled Robots. Ms. Shorter noted that this project "turned out to be a very enjoyable and valuable lesson for all involved." Once the robots were built, DGS had the pleasure of attending the showcase for the highly impressive Recycled Robots.
Special thanks to Mamie D. Lee Principal, Dr. Aimeé Cepeda Pressley, for providing pictures of a few of the Recycled Robots!
If you have any questions or media inquiries, please contact:
Kenny Diggs, DGS Director of Government Affairs and Communications
Phone: (202) 580-9361
What would you like to read about on the DGS Blog? Let us know.