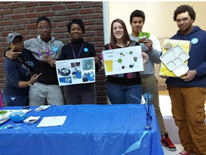 By Brooke Hartman, Schools Outreach Specialist
DGS is proud to share this DCPS Recycles! Honor Roll Success Story from Cardozo Education Campus!
DGS had the pleasure of working with a variety of members of the Cardozo Education Campus community during the organics collection pilot, including the students that have participated in all aspects of a school organics collection program, including the preliminary waste audit, education, advocacy, collections and more!
Working with Cardozo's custodial staff and the Recycling Committee led by chemistry teacher Molly Smith, DGS conducted a waste audit with the help of chemistry students who sorted, weighed, and recorded their findings. Art students participated by drawing interesting things that they saw during the auditing process.
After the waste audit was conducted, DGS teamed with The Future Project and City Year corps members to share what was learned through the waste audit, inform students about the compost process, spread the word about the upcoming organics collection, and recruit student volunteers to help with the program to earn community service hours. Since the start of the program, Cardozo students have helped collect organics materials around the cafeteria during lunch time, and their peers have learned to separate their leftover waste as well. Due to student participation Cardozo is leading the way for other DCPS education campuses to follow!
If you have any questions or media inquiries, please contact:
Kenny Diggs, DGS Director of Government Affairs and Communications
Phone: (202) 580-9361
What would you like to read about on the DGS Blog? Let us know.