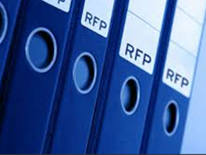 The Department of General Services Contracting and Procurement division procures goods and services to satisfy the construction and maintenance activities of the agency. This is done through the utilization of three primary procurement methods:
Invitation for Bid (IFB): The solicitation document used for competitive sealed bidding for the purchase of equipment, materials, goods and construction. Invitation for Bid (IFB)

Request for Proposal (RFP): The solicitation document used in the competitive sealed proposal process. The RFP procedure permits negotiation of proposals and prices. Request for Proposal (RFP)

Request for Quote (RFQ): The solicitation document used in competitive procurement is awarded to the lowest bidder. Factors such as technical or professional skills and experience are also considered when making awards to a vendor.
Most DGS contracts will be procured through one of these three methods. All commodities or services previously issued under BPAs will now be subject to competition using one of the methods described above. Current BPAs will expire and be replaced by ID/IQ contracts. Contract awards in excess of $100,000 are based on IFB and RFP procurement methods.
FY24 Small Business CBE Symposium - November 13, 2023
Stay Up-to-Date with DGS Solicitations via RSS
DGS Solicitations

DGS Solicitations Documentation
Monthly Forecast for November 2023
Please note that that Google's Chrome browser requires a free tool installed (such as a Slick RSS feed finder extension) to subscribe. You will be able to automatically subscribe and view the feeds if you use IE, Safari, Opera or Firefox browsers.

Beginning in March 2016, all solicitations with a proposal/bid due date that have passed will be posted on the DGS Solicitation Archive page. Contract award data for all solicitations is available on the Contract Award page.
Active DGS Solicitations
Interested and/or authorized individuals may submit bids for the following DGS Solicitations:
Solicitation ID

Solicitation Name

Issuance Date

Proposal Due Date / Extension*

CBE Set-aside / Open or Sheltered Market

Contact

DCAM-24-CS-IFB-0003
Youth Services Center Shower and Ventilation Upgrade for DYRS
November 22, 2023
December 15, 2023 at 12:00 P.M.
SBE Set-Aside
Sadiq Ludin
Contract Specialist


[email protected]

DCAM-23-CS-IFB-0013
FEMS Engine Houses - Various Generator Replacement Projects
November 16, 2023
January 8, 2024 at 12:00 PM
SBE Set-Aside
Sadiq Ludin
Contract Specialist


[email protected]

DCAM-24-CS-RFP-0004
DESIGN-BUILD SERVICES FOR MARTIN LUTHER KING JR. ELEMENTARY SCHOOL MODERNIZATION
November 8, 2023
December 22, 2023, at 2:00 P.M.
No/ Open market with SBE Subcontracting requirements.
Safiullah Baran
Contract Specialist


[email protected]

DCAM-23-CS-IFB-0012
Design Build Services for Engine House 3 Kitchen Renovation and House Upgrades
November 8, 2023
December 20, 2023 at 12:00pm
Yes; SBE set-aside.
Concillia Mpofu
Contract Specialist


[email protected]

DCAM-23-CS-IFB-0011
Design Build Services for Engine 12 Kitchen Renovation and House Upgrades
November 8, 2023
December 12, 2023 at 12:00pm
Yes; SBE set-aside.
Concillia Mpofu
Contract Specialist


[email protected]

DCAM-23-CS-IFB-0010
Design Build Services for Engine House 19 Kitchen Renovation and House Upgrades
November 8, 2023
January 8, 2024 at 12:00 P.M.
Yes; SBE set-aside.
Concillia Mpofu
Contract Specialist


[email protected]

DCAM-23-CS-RFP-0036
Construction Manager at Risk Services for the modernization of the Crummell Community Center
October 19, 2023
December 19, 2023 - 2:00pm
No; Open Market with 35% CBE Requirement
Farzana Balooch
Contract Specialist


[email protected]

DCAM-23-CS-RFP-0029
DESIGN-BUILD SERVICES FOR UPSHUR RECREATION CENTER MODERNIZATION
October 19, 2023
November 22, 2023, at 2:00 P.M.
No; Open Market with 35% CBE Requirement
Ajmal Solamal
Contract Specialist


[email protected]

DCAM-23-CS-RFP-0037
Design-Build Services for New Fort Davis Community Center Building
October 18, 2023
December 12, 2023 - 2:00pm
No; Open Market with 35% CBE Requirement
Farzana Balooch
Contract Specialist


[email protected]

DCAM-23-CS-RFP-0033
St.Elizabeths East Campus Parking Garage Maintenance Services
October 16, 2023
November 22, 2023 at 2:00 PM
Set Aside SBE Certified
James H. Marshall
Contract Specialist


[email protected]

DCAM-24-NC-RFP-0009
Property Management (PM) Services at Duke Ellington School of Arts
October 16, 2023
November 30, 2023
CBE Set Aside
Carla Haynes
Contract Specialist


[email protected]

DCAM-23-CS-RFP-0035
Design-Build Services for Construction of New Douglass Community Center Building & Pool
October 11, 2023
November 30, 2023 at 2:00 PM
No; Open Market with 35% CBE Requirement
Farzana Balooch
Contract Specialist


[email protected]

DCAM-23-CS-RFP-0031
DESIGN-BUILD SERVICES FOR KENILWORTH ELEMENTARY - ADDITION AND RENOVATION
October 2, 2023
October 24, 2023 at 2:00 P.M.
YES. CBE Set-Aside Market
Suzi Tabot
Contract Specialist


[email protected]

DCAM-23-CS-RFP-0034
DESIGN-BUILD SERVICES FOR EMERY SCHOOL RENOVATION
October 2, 2023
November 6, 2023
No/ Open market with SBE Subcontracting requirements.
Safiullah Baran
Contract Specialist


[email protected]

DCAM-23-CS-IFB-0005
Construction Services for North and South MPD Buildings Raze - DC Village
September 14, 2023
November 1, 2023, at 12:00 pm
Yes; SBE set-aside.
Makia Efimba
Contract Specialist


[email protected]

DGS-RFS-2023-9
REQUEST FOR SPACE ("RFS") DGS-RFS- 2023-9 DC School Connect Bus Parking Lot
September 13, 2023
Until Satisfied
If the District requires that the Offeror build-out the Premises, the Lease shall include a Work Exhibit. In such event, the TIA thereunder shall be subject to the requirements of D.C Code Section 2-218.46 regarding the use of Small Business Enterprises and Certified Business Enterprises (as such term is defined under D.C. Code Section 2-218.02), provided that 50% SBE/CBE participation shall be required (rather than 35% as included in the current Statute). The Work Exhibit shall set forth the foregoing requirement.

Morgan Hall
Realty Specialist
[email protected]

DCAM-23-CS-RFP-0030
Construction Management At-Risk Services for construction of A New DC Archives Building in Van Ness Campus of University of District of Columbia
September 7, 2023
October 6, 2023 - 2:00pm

No; Open Market with 35% CBE Requirement
Farzana Balooch
Contract Specialist


[email protected]

DCAM-23-CS-RFP-0027
DESIGN-BUILD SERVICES FOR BARNARD ELEMENTARY SCHOOL CLASSROOM EXPANSION
September 7, 2023
October 13, 2023, at 2:00 P.M.
NO. Open market with 35% CBE requirement
Omer M. Nawazy
Contract Specialist


[email protected]

DCAM-23-CS-AERFP-0003
ARCHITECTURAL/ENGINEERING SERVICES FOR OAK HILL CAMPUS MASTERPLAN
August 24, 2023
October 6, 2023 at 4:30 p.m.
Open Market
Concillia Mpofu
Contract Specialist


[email protected]

DCAM-23-CS-IFB-0007
Daly Building Swing 501 New York Avenue
August 16, 2023
September 22, 2023 at 12:00pm
No; Open Market with SBE requirements
Makia Efimba
Contract Specialist


[email protected]

DCAM-23-CS-RFP-0025
DESIGN-BUILD SERVICES FOR LUDLOW TAYLOR ES ADDITION
August 11, 2023
September 13, 2023 at 2:00pm
YES. SBE Set-Aside Market
Safiullah Baran
Contract Specialist


[email protected]

DCAM-24-NC-RFP-0007
Property Management (PM) Services at Roosevelt Senior High School
August 8, 2023
September 8, 2023 at 2:00pm
SBE/CBE Set Aside
Carla Haynes
Contract Specialist


[email protected]

DCAM-24-NC-RFP-0004
Property Management Services at the Unified Communications Center (UCC) and Public Safety Communication Center (PSCC)
August 4, 2023
September 6, 2023 at 2:00 pm
Open Market
Karen J. Araujo
Contract Specialist


[email protected]

DCAM-23-CS-RFP-0018
DESIGN-BUILD SERVICES FOR MODULAR CAMPUSES AT OXON RUN AND NALLE FOR MARTIN LUTHER KING ELEMENTARY AND DREW ELEMENTARY
July 26, 2023
September 22, 2023 at 2:00 pm
NO. Open market with 35% CBE requirement
Suzi Tabot
Contract Specialist


[email protected]

DCAM-23-CS-AE-0003
Architectural/Engineering Services for the DC Jail – Select Facilities Upgrade
July 20, 2023
August 25, 2023 at 4:00 PM
Yes; SBE Set-aside
Makia Efimba
Contract Specialist


[email protected]

DCAM-23-CS-RFP-0016
DESIGN-BUILD SERVICES FOR BRENT ELEMENTARY SCHOOL MODERNIZATION
July 14, 2023
September 1, 2023, at 2:00 P.M
NO. Open market with 35% CBE requirement
Suzi Tabot
Contract Specialist


[email protected]

DCAM-24-NC-RFP-0003
Citywide Waste Collection and Disposal Services
July 13, 2023
August 11, 2023 at 10:00 A.M.
Open Market
Karen J. Araujo
Contract Specialist


[email protected]

DCAM-23-CS-RFP-0020
DESIGN-BUILD SERVICES FOR DREW ELEMENTARY SCHOOL MODERNIZATION
July 6, 2023
August 7, 2023 at 2:00 P.M.
NO. Open market with 35% CBE requirement
Concillia Mpofu
Contract Specialist


[email protected]

DCAM-23-CS-AERFP-0002
Architectural/Engineering Services for Rosedale Pool Replacement
June 29, 2023
August 04, 2023 at 2:00 PM
Request for Proposals (RFP)
Farzana Balooch
Contract Specialist


[email protected]

DCAM-23-CS-IFB-0009
UPS BATTERY REPLACEMENT FOR PSCC AND RADIO SITES BLOCK
June 22, 2023
July 12, 2023, at 12:00 pm
No/ Open market with SBE subcontracting requirements
Makia Efimba
Contract Specialist


[email protected]

DCAM-23-NC-IFB-0007
Boiler Plant Operations Supplies, Materials & Equipment
June 14, 2023
July 10, 2023 at 10:00 am
SBE Set-Aside Market
Ashley Willis
Contract Specialist


[email protected]

DCAM-23-NC-IFB-0004
Equipment and Machinery Operators & Operational Support Staffing Services
June 13, 2023
July 6, 2023
SBE Set-Aside Market
Ashley Willis
Contract Specialist


[email protected]

DCAM-23-CS-RFP-0014
Design Build Services for Hillcrest Aquatic Center
June 9, 2023
July 14, 2023 at 4:00 P.M.
SBE set aside
Shafi Anwary
Contract Specialist


[email protected]

DGS-RFS- DYRS-2022-06
REQUEST FOR SPACE ("RFS") DGS-RFS- DYRS-2022-06 Department of Youth Rehabilitative Services
May 30, 2023
June 30, 2023
If the District requires that the Offeror build-out the Premises, the Lease shall include a Work Exhibit. In such event, the TIA thereunder shall be subject to the requirements of D.C Code Section 2-218.46 regarding the use of Small Business Enterprises and Certified Business Enterprises (as such term is defined under D.C. Code Section 2-218.02), provided that 50% SBE/CBE participation shall be required (rather than 35% as included in the current Statute). The Work Exhibit shall set forth the foregoing requirement.
Rashad Jenkins
DCAM-23-CS-RFP-0017
DESIGN-BUILD SERVICES FOR MACARTHUR HIGH SCHOOL EXPANSION
May 30, 2023
July 14, 2023 at 2:00pm
No/ Open market with SBE Subcontracting requirements
Safiullah Baran
Contract Specialist


[email protected]

DCAM-23-CS-IFB-0008
Construction Services for Youth Services Center Shower and Ventilation Upgrade for DYRS
May 23, 2023
June 21, 2023 at 12:00pm
SBE Set-Aside
Sadiq Ludin
Contract Specialist


[email protected]

DCAM-22-CS-RFP-0022
DESIGN-BUILD SERVICES FOR JEFFERSON FIELD – NEW TURF FIELD RENOVATION
May 8, 2023
June 30, 2023 at 2:00 pm
Yes; SBE Set-aside
Makia Efimba
Contract Specialist


[email protected]

Call to Artists 53 Commissions for Permanent Two & Three Dimensional Artworks
May 4, 2023
May 29, 2023
Sandy Bellamy
Percent for Art


[email protected]

DCAM-23-NC-RFP-0002
Routine & Supplemental Janitorial Services for Fire & Emergency Medical Services Department
April 27, 2023
June 23, 2023 at 10:00 am
SBE SET ASIDEX
Ashley Willis
Contract Specialist


[email protected]

DCAM-23-CS-RFP-0006
DESIGN-BUILD SERVICES FOR LECKIE EDUCATION CAMPUS MODERNIZATION
April 24, 2023
June 14, 2023 at 2:00 PM

No/ Open market with SBE Subcontracting requirements
Safiullah Baran
Contract Specialist


[email protected]

DCAM-23-CS-RFP-0011
Design Build Services for Woody Ward Baseball Field Renovation
April 21, 2023
June 5, 2023 at 4:00 P.M.

SBE set aside
Shafi Anwary
Contract Specialist


[email protected]

DCAM-23-AE-RFP-0001
ARCHITECTURAL/ENGINEERING SERVICES FOR RANDALL RECREATION CENTER
April 7, 2023
May 12, 2023, at 2:00 PM
Yes, CBE Requirement, 35% SBE Set-Aside
Rafi Rafiq
Contract Specialist


[email protected]

DCAM-23-CS-RFP-0009
DESIGN-BUILD SERVICES FOR J.O. WILSON ELEMENTARY SCHOOL MODERNIZATION
March 9, 2023
May 12, 2023 at 2:00 P.M.
NO. Open market with 35% CBE requirement
Suzi Tabot
Contract Specialist


[email protected]

DGS-RFS- DGS-2023-02
REQUEST FOR SPACE ("RFS") DGS-RFS- DGS Warehouse-2023-02 - Department of General Services Warehouse
April 13, 2023
May 8, 2023
Yes
Mattie Rogers
Realty Specialist


[email protected]

DGS-RFS- DCPS-2022-03
REQUEST FOR SPACE ("RFS") DGS-RFS- DCPS-2022-03 DC Public Schools – Pre-K Space
March 15, 2022
Until Filled
If the District requires that the Offeror build-out the Premises, the Lease shall include a Work Exhibit. In such event, the TIA thereunder shall be subject to the requirements of D.C Code Section 2-218.46 regarding the use of Small Business Enterprises and Certified Business Enterprises (as such term is defined under D.C. Code Section 2-218.02), provided that 50% SBE/CBE participation shall be required (rather than 35% as included in the current Statute). The Work Exhibit shall set forth the foregoing requirement.
Morgan Hall
DGS-RFS-DPW-2021-5
REQUEST FOR SPACE - Department of Public Works – Solid Waste Management, DPW Training Course and Vehicle Storage
May 20, 2021
Open until fulfilled
No
DAWIT BERU
Realty Specialist


[email protected]

DGS-RFS-DPW-2021-4
REQUEST FOR SPACE - Department of Public Works – Vehicle Impoundment Lot
May 20, 2021
Closed out
No
DAWIT BERU
Realty Specialist


[email protected]

DGS-RFS- DOH-2021-6
REQUEST FOR SPACE ("RFS") DGS-RFS- DOH-2021-6 Animal Shelter
June 14, 2021
open until the requirement is satisfied


If the District requires that the Offeror build-out the Premises, the Lease shall include a Work Exhibit. In such event, the TIA thereunder shall be subject to the requirements of D.C Code Section 2-218.46 regarding the use of Small Business Enterprises and Certified Business Enterprises (as such term is defined under D.C. Code Section 2-218.02), provided that 50% SBE/CBE participation shall be required (rather than 35% as included in the current Statute). The Work Exhibit shall set forth the foregoing requirement.

Charleen Ward
DGS-RFS-DHS-2020-8
REQUEST FOR SPACE ("RFS") DGS-RFS-DHS-2020-8 (DHS Hypothermia Shelter)
June 19, 2020
Open until Requirement is satisfied
N/A
Charleen M.Ward