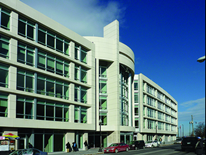 The new Department of Employment Services (DOES) headquarters is now open for business.
Located at 4058 Minnesota Avenue, NE, this brand new five-story government facility includes:
229,000 square feet of office space housing 450 government employees;
A one-stop DC Works! Career Center for District job-seekers;
6,500 square feet of retail space for local businesses; and
A large community meeting room.
The building's close proximity to the adjacent Minnesota Avenue Metro station will promote more public transit ridership to the area and the new mixed-use amenities neighboring the building will be attractive to DOES employees and customers.
The building is tracking LEED Gold certification and includes a 24,000 square feet green roof, the largest District-owned green roof in the city.
Please reference the Frequently Asked Questions document attached below for more information and photos of the facility.
Project Details
Minnesota-Benning Government Center
Providing Agency: Department of General Services (DGS)
Tenant Agency: Department of Employment Services (DOES)
Status
: Completed
Type:
New Construction
Completed Date:
December 16, 2010
Actual Budget:
$61,700,000.00
Location:
4058 Minnesota Avenue, NE
Project Manager: Donald Eischens
Green Features: LEED Gold certification