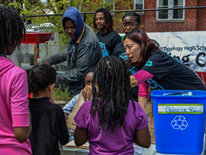 By Brooke Hartman, Schools Outreach Specialist
DGS is proud to share this DCPS Recycles! Honor Roll Success Story from McKinley Technology High School!
The McKinley Technology High School Recycling Club has created a recycling program that focused on creating a successful recycling program in their school and the adjacent middle school, and is now extending outside of the walls of their school into their communities. Thanks to club sponsor and teacher, Jen Wang, DGS was able to provide the supplies and support they needed to implement their recycling program, and we are excited about how much these students have accomplished ever since!
The McKinley Tech Recycling Club labeled and placed recycling bins around their building and currently collects recyclables from each classroom and office twice a week. They earn community service hours for their after-school work. They have hosted bake-sales to generate funding for club-related expensive like their awesome club t-shirt, and have now begun volunteering their time to promote and educate the community on recycling at community events.
DGS had the pleasure of visiting them at a community rally at Harry Thomas Recreation Center. We were pleased to find high school students willing to spend a Saturday educating their community on the importance of recycling. We are excited to see what the McKinley Tech Recycling Club has in-store for next year!
If you have any questions or media inquiries, please contact:
Kenny Diggs, DGS Director of Government Affairs and Communications
Phone: (202) 580-9361
What would you like to read about on the DGS Blog? Let us know.