New App Available in iTunes, Google Play and Windows Store for Users to Have Your District, Your Way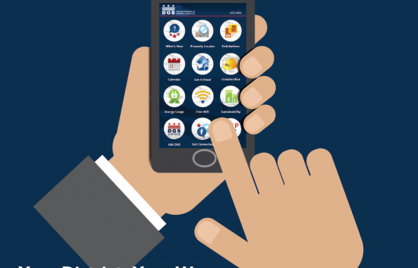 (Washington D.C.) — Today, the Department of General Services (DGS) launched its new customized application for download by the District's residents and visitors. The app is geared toward searching for information on DC real estate portfolio locations, open solicitations, school construction details and energy usage accessible to the public, the new DGS App is a one-stop shop for the District's most vital data and updates.
DGS is one of the city's largest agencies, responsible for the construction, maintenance and portfolio management for nearly 30,000,000 square feet of District-owned space. Now with the new DGS App, users can find out more about the District by searching for properties, finding contract opportunities, keeping up with school, park and recreation center construction and more. The DGS App is the District's #1 resource for information about the city's places to work, learn and play.
Features of the App include: Property Search, Solicitation Search, Construction Updates, Help Desk to Report an Issue, Energy Tracker for District Buildings, and Free DCGOV Wi-Fi hotspots.
Designed by DataNet Systems Corporation, this new application is a proud accomplishment for the DGS IT team and all the stakeholders inside DGS who worked diligently to provide the needed resources to accomplish this build.
About The Department of General Services:
The mission of the Department of General Services (DGS) is to elevate the quality of life for the District with superior construction, first-rate maintenance and expert real estate management. By building and maintaining safe and green state-of-the-art facilities which foster economic growth and elevate educational environments, our trusted and skillful employees create modern and vibrant communities across all of the District of Columbia.
Follow DGS on Facebook and Twitter!
Follow on Facebook at http://www.facebook.com/dcdgs and Twitter at @DCDGS