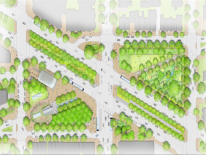 Project Overview
Eastern Market Metro Park project is the result of a 2013 community led Master Park Plan commissioned by Barracks Row Main Street that illustrated new public space improvements surrounding the Eastern Market Metro. The primary objective of this District park project is to transform the Metro Park area and surrounding DPR parkland into a safe and thriving 'Town Square' that supports multi-generational social activities for the historic Capitol Hill community. Other park objectives include: improved park connectivity, enhanced multi-modal transit access, and increased green infrastructure. The District will be pursuing its first ENVISION certification from the Institute for Sustainable Infrastructure. The ENVISION framework will help to align this project with other overarching citywide resiliency goals and demonstrate our continued commitment to building a sustainable future.
Eastern Market Community Meeting Presentation (March 25,2020)
Eastern Market Community Meeting Presentation-December 12, 2019
Next Community Meeting - December 12 at 6:30 PM at Watkins Elementary School

Upcoming Eastern Market Metro Park Advisory Team (EMMPAT) Meetings
All meetings are at 1:30 p.m. at the Southeast Library unless otherwise indicated.
November 20
December 18
January 22
February 26
March 25
April 22
May 27
June 24
Eastern Market Metro Park Project
Location: 701 Pennsylvania Ave SE, Washington, DC 20003
Ward: 6
Construction Agency: DGS
Start Date: Fall 2018
End Date: April 2021
DGS Project Manager: Diego Martinez
DPR Project Manager: Brent Sisco
General Contractor: Keystone Plus Construction
Architect: MOYA Design Partners
Budget: $14 Million
Green Features/ENVISION Certification: ENVISION
Status: Design Phase
DGS Contact: [email protected]
GET IN TOUCH: [email protected]
Interim Playground Equipment