Project Overview
Walter Pierce Park is a 177,130 SQ FT park. Erosion control measure will be taken, new playground equipment will be purchased, and the addition of a water fountain for the dog park will be added, among other renovations.
Project Details
Project Name: Walter Pierce Park
Address: 2630 Adams Mill Rd NW #208,
Washington, DC 20009
Ward: 1
DPR Project Manager: Peter Nohrden
DGS Project Manager: Timothy Ball
Architects : Daniel Curry/Natural Resource Design
Project Delivery: Design-Build
Status: Preconstruction
General Contractor: WKM Solutions
Current Budget: $798,745
Start Date : Summer 2019
End Date : April 2020
DGS Contact: Wayne Gore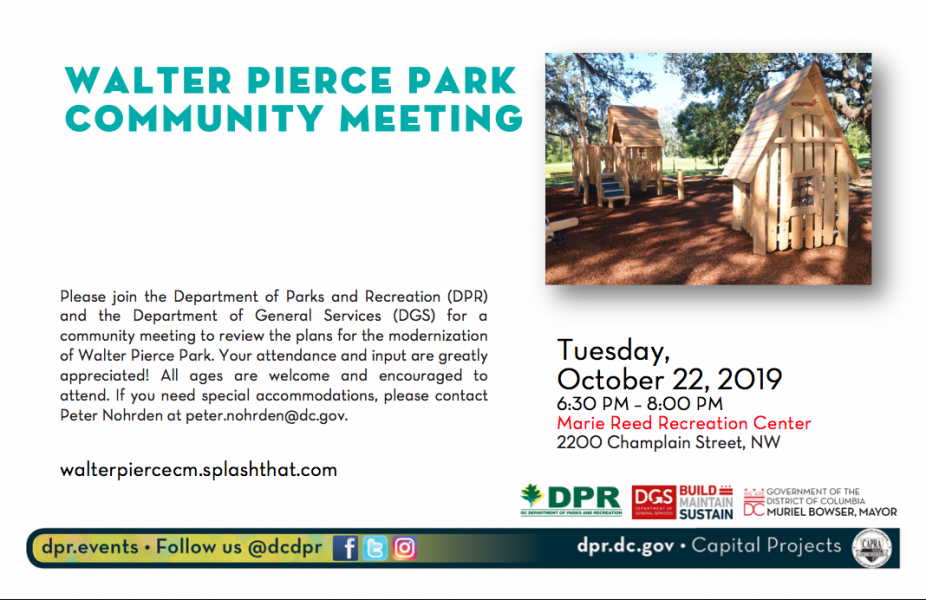 The Walter Pierce Park public survey on the playground and park hosted by DPR and DGS will be open from May 3rd until May 20th, 2019. Please take a few minutes to share your valuable input into the design process.
Walter Pierce Meeting Documents:
Walter Pierce Meeting Flyer ( April 8, 2019)
Walter Pierce Park Presentation (April 08, 2019)
">