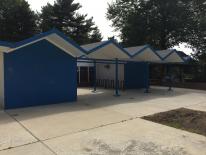 Project Overview
This project will consist of demolition of the existing community center to build a larger community center to include multipurpose room, classroom, flex computer lounge, bathrooms, possible ½ gym and other program spaces.
Project Details
• Address: 2412 Rand Place, NE
• Ward: 5
• DPR Project Manager: Peter Nohrden
• DGS Project Manager: Mike Etherton
• Status: RFP Procurement
• Project Delivery: Design-Bid-Build
• Architect: ISTUDIO Architects
• General Contractor: TBD
• Current Budget: $7.2M
• Start Date: Fall 2019
• End Date: Summer 2020
• DGS Contact: Wayne Gore
Tuesday, June 9th, 2020

Please join the Department of Parks and Recreation (DPR) and the Department of General Services (DGS) for a community meeting to discuss upcoming renovations planned. Come share your thoughts, help influence the project design, and learn how to get involved.
Your attendance and feedback are critical to the process and greatly appreciated. All ages are welcome!
Arboretum Community Meeting - Concept Design Review
Hosted by DPR Document

Tuesday, Jun 9, 2020 6:30 pm – 8:00 pm Eastern Time (US & Canada)
https://dcnet.webex.com/dcnet/j.php?MTID=mcdd73cb357dee2e4015cc7b597d5f0f1

Join by phone
1-650-479-3208 Call-in toll number (US/Canada)
Attendee access code 360 353 07
Arboretum Community Meeting: April 9, 2019
With a budget of $7.2 million, DPR and DGS hosted a live vote on three options for the new recreation center that would fit within the budget. The results of this vote are intended to guide the conceptual design of the recreation center. The conceptual layout will be presented at the next community meeting.
Option 1: A 1/2 Gym with limited additional spaces
Option 2: a couple of large multipurpose rooms with additional smaller specialized spaces
Option 3: many specialized smaller spaces
The community voted for Option 2 above.
Then a second live vote was held to vote on what the program spaces would hold. These are the results of that, in order:
formal fitness (13)
Boxing (10)
Multi-purpose / fitness (8)
Multi-purpose / community (7) tied
Sensory Play (7) tied
Computer room (6) tied
Media / Reading (6) tied
Senior room (4) tied
Music room (4) tied
Lounge (4) tied
Teen / Game room (3)
Classroom (2) tied
1/2 gym (2) tied