Barry Farm Recreation Center
(Ward 8)
The new facility is approximately 32,000 sq-ft, and will include an indoor gymnasium w/bleachers, an indoor pool with waterslide, lockers, a game room, an exercise room and senior lounge.

Brentwood ADA Enhancements (Ward 5)
The Department of General Services, in conjunction with the Office of Disability Rights (ODR), will be performing American with Disability Acts (ADA) modifications to Brentwood Recreation Center. Typical upgrades may include ADA Men's and Women's restrooms, Front of building ADA ramp access, Rear of building ADA access and/or ADA handrails for outdoor egress.

The project consists of adding a bronze sculpture of Dr. Woodson seated on a memorial stone, new plantings, restoring iron fencing, new pavers, and potentially adding benches to this triangular park.

Chuck Brown Memorial Park
(Ward 5)
The park is a new and exciting location that honors the memory of of DC's musical legend; Chuck Brown.
Columbia Heights Fitness Center
(Ward 1)
Renovation and relocation of the fitness center at Columbia Heights Recreation Center. Includes new fitness equipment.

Kalorama Park
(Ward 1)
The park is a 3-acre triangular space located at the intersection of Columbia Road, Kalorama Road, and 19th Street, NW. The name Kalorama, means "beautiful view" in Greek.
Kelly Miller Tennis Courts
(Ward 7)
Renovation of the three tennis courts at Kelly Miller Recreation Center. Includes paving, court resurfacing, new benches, fencing, posts, and nets.
Legacy Memorial Park
(Ward 4)
The park design includes nine sculptural artworks, a memorial wall with an inscription written by family of the remembered, landscaping and hardscaping, new lighting and streetscape amenities.

Noyes Park
(Ward 5)
Noyes Park is a rectangular park located in the Brookland neighborhood of DC.

Stead Park
(Ward 2)
Installation of artificial turf for a multi-use athletic field, a rubberized track, seating, site lighting, a splash pad water feature, a stage, landscaping (shade trees, new fencing and gates), and bio-retention areas.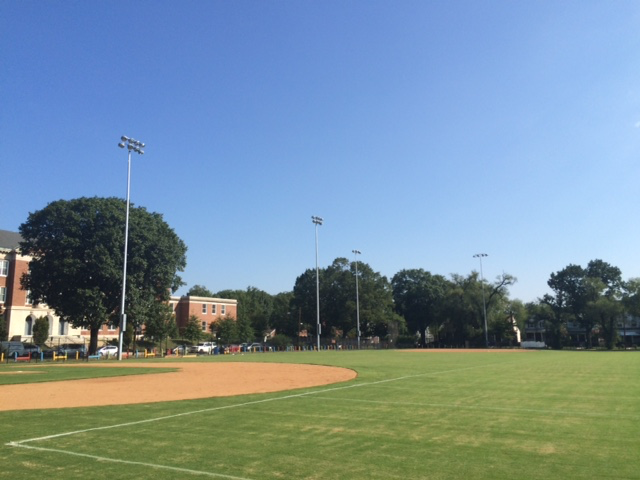 Taft Dwight Mosely Field
(Ward 5)
Install new energy-efficient athletic field lighting, resurface three and a half basketball courts, install new site furnishings. natural turf on the athletic field and renovate three ball fields. The project will also include repaving the existing walking track, installation of two new drinking fountains, and a new 8' tall vinyl-coated chain-link fence around the athletic field.