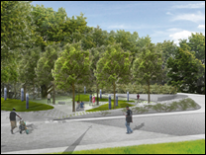 Overview
The goal of the Memorial Park is to honor the nine victims, the 80 who were injured, first responders and others whose lives were altered by the collision of two southbound Metro trains between the Takoma and Fort Totten stations on June 22, 2009. The Memorial Park will allow for meditation, remembrance, reflection, hope and renewal for all affected by the tragedy, especially the twelve orphaned children whose parents died in the incident. The Metro crash that day was the deadliest accident in the system's history, and one of the worst subway rail accidents in modern history. It united the victims in a common tragic fate and affected the families and the community in ways that reverberate still.
Background
Mayor Vincent C. Gray broke ground on Sunday, June 22, 2014 at the site of the new Legacy Memorial Park, which will honor the nine people who perished during the 2009 Metrorail collision. Mayor Gray was joined by family representatives, members of the nearby community and congregants of Greater Saint Paul Baptist Church. The $1.8 million memorial - which will be located across the street from the church - is scheduled for completion in December.
The winning design team of sculptor Barbara Liotta and architects Lucrecia Laudi and Julian Hunt of Hunt Laudi Studio have created a vision for the park that creates a space for people to connect with nature's beauty amid a setting of artistic reflection to honor the victims, emergency personnel and countless lives altered by the tragic accident. The design team was selected through a competitive process conducted in partnership by the Office of the City Administrator (OCA) and the DC Commission on the Arts and Humanities (DCCAH). An Art Selection Panel convened by DCCAH, representing family members' diverse interests and expertise, reviewed the qualifications of the artists and the finalists' designs. Bennett Paschen Joint Venture will be the general contractor to build the memorial park.
The park design includes nine sculptural artworks, a memorial wall with an inscription written by family of the remembered, landscaping and hardscaping, as well as the installation of new lighting and streetscape amenities.
The Legacy Memorial Park is located at the entrance of the Blair Road Community Garden in Ward 4 at the intersection of New Hampshire and South Dakota Avenues, NE.
Project Details
Legacy Memorial Park Project (Community Garden)
Location: Intersection of South Dakota Ave and New Hampshire Ave, NW
Ward: 4
Architect: Hunt Laudi Studio
General Contractor: Bennett Paschen Joint Venture
Start Date: June 22, 2014 (date of the ground breaking)
Completion Date: December 2014
Budget: $1.8 million
Status: Complete
Project Manager: Jennifer Battle, Marcos Miranda
Note: More information will be posted as it becomes available.
Design Concept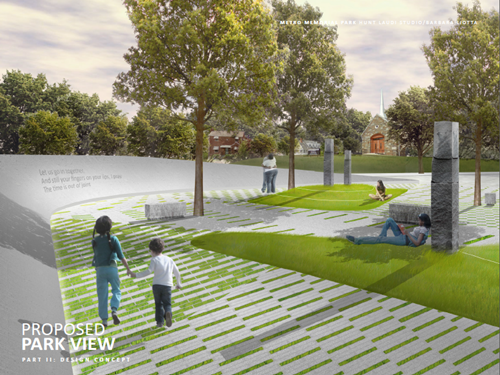 Featured Presentation
Legacy Memorial Park Presentation June 22, 2014
Related Information