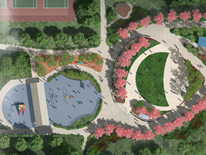 Project Overview
The Chuck Brown Memorial Park will be a new and exciting location that truly honors the memory of one of DC's greatest legends, Mr. Chuck Brown.
The park will consist of a memorial wall honoring Mr. Brown's life and achievements and an abstract sculpture that marks the entrance to the park and signifies the "call and response" associated with the go-go music that Mr. Brown pioneered.
The memorial wall will be sloped and made of colored concrete with images of Mr. Brown on high quality ceramic tiles. These images will be about 8-12 feet in height. At the southern side of the memorial will be a smaller wall of colored concrete with 2 metal panels that lists the musical contributions of Mr. Brown (discography panels).
The main wall and the discography wall will be separated by a stairwell that connects the existing playground area to the new informal performance plaza area along the east end of the site. The plaza will be constructed of pervious pavers with a seating area of turf-grass. To the west of the new wall will be an interactive instrument area with 5 drums that can be played by visitors.
The site will also contain bio-retention areas with varied landscaping and other site amenities including seating, trash/recycle bins, game and picnic tables.
The sculpture consists of three abstract representations; one of Mr. Brown and two dancers. The three pieces are located within two circular areas (a stage and a dance floor respectively) that are enclosed by short bench walls. The overall piece is interactive and allows the visitor to experience the go-go "call and response" through LED lights that are activated through motion pads and/or motion sensors throughout the piece.
Project Details
Chuck Brown Memorial Park Project
Location: 18th/20th Franklin Street, NE
Ward: 5
Architect: Marshall/Moya Design
General Contractor: Broughton Construction, Inc.
LEED Level: Bio-retention rain gardens, and permeable pavers
Start Date: April 12, 2014 (this is the date demo began)
End Date: August 2014
Status: Completed
Project Manager: W. Keith Jones
Construction Agency: DGS
Phone: (202) 431-1195
Ribbon Cutting Ceremony
The Chuck Brown
Foundation will be giving
away 500 drawstring
backpacks to children in
attendance.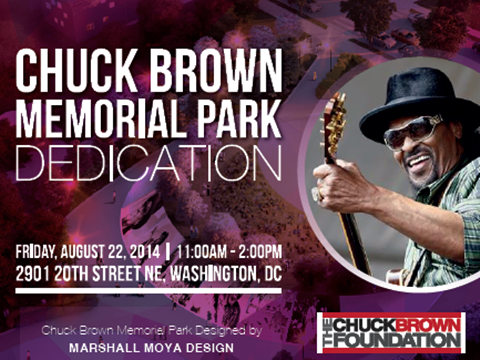 Featured Presentation
View the Chuck Brown Memorial Park - Commission of Fine Arts Presentation April 17, 2014.
Related Information