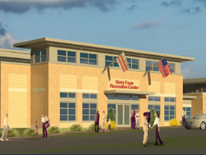 Project Overview
The new Barry Farm Recreation Center is approximately 32,000 sq. ft., and will include an indoor gymnasium with bleachers, an indoor pool with the District's second water slide, lockers, a game room, an exercise room and senior lounge. Adjacent to the indoor pool and lockers is a below grade parking structure.
Exterior amenities include a combination football/soccer and little league field, press box for the field, community garden, basketball courts, playground and courtyard.
Phase 1 (2014) - Pool building, the garage, basketball courts and playground.
Phase 2 (2015) - Recreation Center, the field and the exterior amenities.
Project Details
Barry Farm Recreation Center Project
Location: 1230 Sumner Road, SE
Ward: 8
Construction Agency: DGS
Start Date: May 2013
End Date: 2015
DGS Project Manager: Shilpa Khatri
General Contractor: Whiting Turner
Architect: Torti Gallas Urban
Budget: $23,000,000
Green Features/LEED Certification: LEED Silver
Status: Construction Ongoing
New Indoor Features Include:
Gymnasium with spectator seating for 250 people
Game area
Fitness room
Computer lab
Senior lounge
Teen room
Kitchen
Multipurpose rooms
Indoor pool with lap lanes, water slide and leisure area with slides
Locker rooms
New Outdoor Features Include:
Multipurpose synthetic field for football, baseball, and soccer
Press box
Bleacher seating for 400
Playground
Basketball courts
Parking garage
Featured Presentation
Barry Farm Recreation Center Project Presentation September 9, 2014
Related Information